66 PC COMPLETE SET NORITAKE PASADENA 6311 SERVICE FOR 8 W SERVE WARE Mint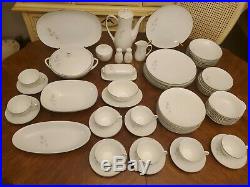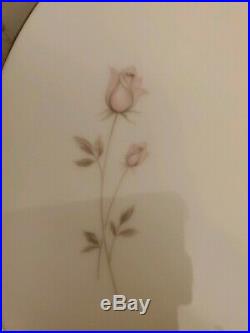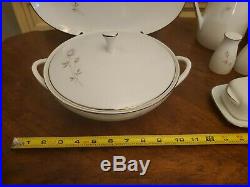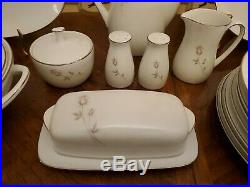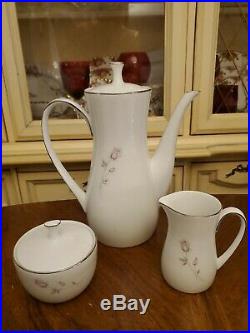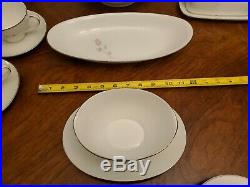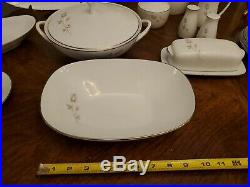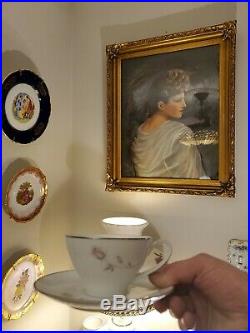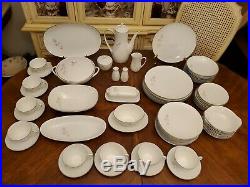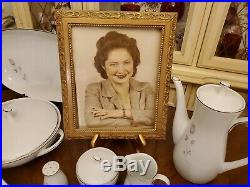 ANTIQUE 1950'S NORITAKE (TAN & TEAL WREATH BACKSTAMP) PASADENA 6311 PINK ROSEBUD PATTERN 66 PIECE COMPLETE DINNERWARE SET WITH LARGE SERVING, CONDIMENT, AND HOSTESS PIECES IN ABSOLUTE MINT CONDITION! ONE FAMILY OWNER AND NEVER USED, DISPLAYED ONLY IN GLASS ENCLOSED CHINA CABINET FOR OVER 50 YEARS! EVERY PIECE OF THIS 66 PIECE SET, (I DON'T COUNT LIDS IN THE SET TOTAL, HOWEVER I DID COUNT SALT & PEPPER SHAKERS AS 2 PIECES) IS ABSOLUTELY PERFECT, NO CHIPS, CRACKS, HAIRLINE CRACKS, UTINSIL MARKS, NOTHING, EVERY PIECE LOOKS GOOD AS NEW! SHE BEGAN THIS SET ABOUT THE YEAR IT WAS INTRODUCED AND COMPLETED IT ABOUT 1958.
SHE EVEN HAD THE OWNER OF THE SHOP SPECIAL ORDER MANY OF THE PIECES IN THIS SET SINCE THE SHOP ONLY STOCKED BASIC 5 PIECE PLACE SETTINGS AND A COUPLE SERVING PIECES. MY MOM TOLD ME MANY TIMES HOW HARD SHE WORKED AND SAVED FOR EVERY PIECE OF THIS SET. I STILL HAVE THE CEDAR HOPE CHEST SHE FIRST STORED THIS CHINA IN! MY GRANDMOTHER GAVE HER AN ANTIQUE CHINA CABINET AND DINING ROOM SUITE AS A WEDDING GIFT TO HOLD THIS SET. THIS CHINA AND THE ANTIQUE DINING ROOM SUITE WERE PRIZED POSSESSIONS OF MY MOM'S FOR MOST OF HER LIFETIME UNTIL I LOST HER AT AGE 82 ABOUT 15 OR SO YEARS AGO. THIS CHINA VERY MUCH REMINDS ME OF HER! SHE LOVED PINK SWEETHEART ROSES, SHE TOLD ME MANY TIMES HOW MY FATHER GAVE HER A SPRAY OF THEM FOR VALENTINE'S DAY WHEN SHE WAS 14 YEARS OLD. SHE FEEL IN LOVE WITH HIM AND MARRIED HIM 7 YEARS LATER ON VALENTINE'S DAY! MY PARENTS ENJOYED A LOVE FILLED MARRIAGE THAT LASTED OVER 50 YEARS, I WAS AN ONLY CHILD. MY MOM HAD 5 COMPLETE LARGE SETS OF FINE CHINA WHEN SHE PASSED AWAY, AS WELL AS MANY LARGE COLLECTIONS OF ART GLASS, POTTERY, SILVER, ANTIQUE FURNITURE AND COLLECTABLES. SHE TAUGHT ME FROM AN EARLY AGE ABOUT ASIAN, AMERICAN, ENGLISH, AND EUROPEAN CHINA, AMERICAN POTTERY THAT SHE ADORED, SHE STUDIED AND OWNED MANY BOOKS ON CHINA, POTTERY, CRYSTAL, SILVER, ETC. HER HOME WAS COMPLETELY FILLED WITH LARGE COLLECTION'S WHEN I LOST HER. THIS CHINA IS A PERFECT EXAMPLE OF CLASSIC NORITAKE FINE CHINA PRODUCED AT MID CENTURY FEATURING MODERNIST CLEAN LINES AND MODERN MINAMALIST DESIGN FEATURES. AFTER WWII DESIGNERS AT NORITAKE WERE HEAVILY INFLUENCED BY GERMAN DESIGNERS THAT HAD BEGAN INTRODUCING ATOMIC AGE MODERN DESIGNS, HOWEVER, THE DESIGNERS WORKING AT NORITAKE DESIGN STUDIOS MID CENTURY FELT THEY COULD DO IT BETTER! CHOOSING A CLASSIC SIMPLE PALE PINK ROSEBUD FOR THIS PATTERN WITH SILVER OUTLINE FOR DEFINITION THAT CONTRASTS PERFECTLY WITH THE PURE WHITE CHINA AND FINE PLATINUM TRIM; THIS HAS BECOME ONE OF THE MOST BELOVED NORITAKE PATTERNS BY COLLECTOR'S TODAY!
THIS COULD BE A PERFECT COMPLETE SET OF WEDDING CHINA FOR YOU NOW IF YOU LOVE PINK SWEETHEART ROSES, AND ARE READY TO MARRY THE PERSON YOU LOVE! THIS HEIRLOOM CHINA COULD ALSO BE THE SET YOU HAVE ALWAYS WANTED TO OWN! IT MAKES A DRAMATIC AND LOVELY DISPLAY IN A NICE LARGE CHINA CABINET; I HAVE A LIFETIME OF MEMORIES OF SEEING IT OFTEN IN ONE OF MY MOMS DINING ROOMS, SHE HAD TWO IN A VERY LARGE HOME, AS WELL AS A MORNING ROOM WHERE SHE SERVED BREAKFAST.
SHE NEVER ONCE ACTUALLY USED IT THAT I KNOW OF, BUT SHE WAS SO PROUD TO OWN IT! MY FATHERS MOTHER ALSO WAS GAVE HER A LARGE SET OF ENGLISH FINE CHINA WHEN SHE MARRIED MY FATHER, AND SHE DID USE THAT CHINA SET ON HOLIDAYS AND FOR SPECIAL ENTERTAINING. I THINK THAT IT'S NICE TO KNOW AS MUCH HISTORY AS POSSIBLE ABOUT ANY ANTIQUE OR ANTIQUE SET, AND THOUGHT IT WOULD BE NICE TO INCLUDE THE PERSONAL OWNERSHIP HISTORY OF THIS SET. THE LAST PHOTO IN THIS LISTING INCLUDES A PHOTO OF MY MOM TAKEN WHEN SHE WAS ABOUT 32 OR 33 YEARS OLD.
SHE WAS A GREAT LADY WITH EXQUISITE TASTE IN CHINA! AND NOW ALL THE TECHNICAL DETAILS ABOUT THIS SET! THIS SET INCLUDES THE FOLLOWING PIECES: (8) 10-1/2 DIAMETER DINNER PLATES. (8) 8-1/4 DIAMETER SALAD PLATES. (8) 6-1/4 DIAMETER BREAD PLATES.
(8) 7-3/8 DIAMETER SOUP BOWLS. (8) 6-3/4" HANDLE TO HANDLE X 1-3/4" DEEP LUGGED CEREAL BOWLS. (8) 4-3/4" WIDE FROM RIM TO HANDLE AND 2-3/8" TALL COFFEE OR TEA CUPS THAT HOLD THE PERFECT 6 OUNCE CUP OF COFFEE OR TEA. (1) LARGE 13-3/4" X 9-1/4" SERVING PLATTER. (1) LARGE COVERED TAUREEN WITH HANDLES THAT MEASURES 10-5/8" WIDE HANDLE TO HANDLE, 8-3/4" DISH DIAMETER THAT IS 3-1/8" DEEP, AND STANDS 5" TALL WITH LID.
(1) 9-7/8" X 7-1/8" X 2-3/4 DEEP LARGE VEGETABLE SERVING DISH. (1) LONG 11-7/8" X 5-1/2" LARGE SERVING DISH OR TRAY THAT IS 1-1/2" DEEP AT CENTER OF DISH, AND 1-3/4" TALL AT EACH END.
(1) GRAVY BOAT WITH ATTACHED UNDERPLATE THAT MEASURES 7-3/4" LONG X 6" WIDE X 3 TALL. (1) LARGE COVERED BUTTER DISH THAT MEASURES 7-3/4" LONG X 4-1/4" WIDE X 2-1/4 TALL WITH LID, HOLDS ONE STANDARD SIZE STICK OF BUTTER. (1) SALT SHAKER 3-1/2" TALL X 1-7/8" DIAMETER AT WIDEST POINT.
(1) PEPPER SHAKER 3-1/2" TALL X 1-7/8" DIAMETER AT WIDEST POINT. (1) SUGAR BOWL WITH LID 3-7/8" DIAMETER X 3-1/4" TALL WITH LID. (1) CREAM PITCHER, STANDS 4-1/4" TALL AND IS 3-3/4" WIDE FROM RIM TO HANDLE. (1) TALL COFFEE OR HOT TEA POT THAT STANDS 10" TALL WITH LID AND IS 8-1/2" WIDE FROM SPOUT TO HANDLE; IT HOLDS 48 FLUID OUNCES AND WILL FILL ALL EIGHT OF THE 6 OUNCE COFFEE OR HOT TEA CUPS. A TOTAL OF 8 SEVEN PIECE PLACE SETTINGS CONSISTING OF DINNER PLATE, SALAD PLATE, BREAD PLATE, SOUP BOWL, LUGGED CEREAL BOWL, CUP, AND SAUCER, ALONG WITH 5 LARGE SERVING PIECES THAT INCLUDE LARGE PLATTER, COVERED TAUREEN, LARGE VEGETABLE BOWL, LONG LARGE SERVING DISH OR TRAY, AND LARGE GRAVY BOAT WITH ATTACHED UNDERPLATE, CONDIMENT PIECES THAT INCLUDE COVERED BUTTER DISH AND SALT & PEPPER SHAKERS, AND HOSTESS SET PIECES THAT INCLUDE TALL COFFEE OR HOT TEA POT WITH COVERED SUGAR BOWL AND CREAM PITCHER. 66 PIECE COMPLETE SET - EVERYTHING YOU NEED FOR ELEGANT AND LOVELY DINING, AND ENTERTAINING! IN OUR BUSY WORLD TODAY, PEOPLE ARE LOSING THE FINE ART OF DINING THAT IS SUCH AN IMPORTANT PART OF OUR SHARED CULTURE!
WITH THIS FINE ANTIQUE CHINA SET YOU CAN ENJOY THE LUXURY OF FINE ELEGANT DINING WITH FAMILY AND FRIENDS THAT WILL HELP BUILD A LIFETIME OF BEAUTIFUL MEMORIES! CERTAINLY VERY FINE HEIRLOOM QUALITY; THIS LARGE SET OF BEAUTIFUL FINE CHINA COULD BECOME A PRIZED FAMILY HEIRLOOM THAT YOU WILL WANT TO PASS TO YOUR SON, DAUGHTER, OR GRANDCHILD SOMEDAY! MY MOM TAUGHT ME THE VALUE OF FAMILY AND JUST HOW PRECIOUS OUR TIME TOGETHER WAS! SHE MADE EVERY SUNDAY DINNER SPECIAL, EVERY HOLIDAY MEAL AN EVENT TO REMEMBER, AND EACH FAMILY MEMBERS BIRTHDAY A GRAND OCCASION! SETTING THE PERFECT TABLE FOR EVERY OCCASSION WITH LOVELY FINE CHINA, SHE KNEW EXACTLY HOW TO MAKE EACH MEMBER OF THE DINING TABLE FEEL LIKE THE GUEST OF HONOR.
NO ONE WAS EVER LEFT OUT OF POLITE CONVERSATION, SHE GRACEFULLY KEPT EVERY GLASS AND CUP FILLED WITHOUT EVER SPILLING A DROP, OR INTERRUPTING ANYONE WHO MIGHT BE SPEAKING. SHE KNEW EXACTLY WHEN TO SERVE EACH COURSE OF ANY MEAL, THE PERFECT WINE WITH EACH COURSE, THE EXACT FORK, SPOON, OR KNIFE WITH EACH COURSE, AND ALWAYS FRESH HOT COFFEE WITH HER DESERT COURSE TIMED PERFECTLY AT THE END OF EVERY MEAL! SHE SHAPED ME INTO THE ADULT I BECAME, AND TAUGHT ME THAT FAMILY AND FRIENDS ARE THE MOST IMPORTANT PART OF LIFE, AND FINE DINING, LIKE AN INTIMATE DINNER FOR TWO, OR A LARGE FORMAL DINNER PARTY FOR FAMILY AND CLOSE FRIENDS, CAN CREATE LASTING MEMORIES TO CHERISH FOR A LIFETIME! I WILL GREATLY MISS THIS BEAUTIFUL AND PRECIOUS SET OF FINE CHINA, BUT I WILL ALWAYS HAVE MY MEMORIES OF MY WODERFUL MOM WHO I WILL ALWAYS LOVE SO VERY MUCH!
- THANK YOU FOR TAKING TIME TO LOOK, AND MAY YOUR LIFE BE FILLED WITH LOVE, LAUGHTER, JOY, AND ESPECIALLY FINE DINING WITH FAMILY AND FRIENDS YOU CHERISH! The item "66 PC COMPLETE SET NORITAKE PASADENA 6311 SERVICE FOR 8 W SERVE WARE Mint" is in sale since Saturday, January 18, 2020.
This item is in the category "Pottery & Glass\Pottery & China\China & Dinnerware\Noritake". The seller is "johac_47" and is located in Gastonia, North Carolina. This item can be shipped to United States, Canada.
Main Color: White
Brand: Noritake China
Collection: Noritake
Model: Pasadena 6311
California Prop 65 Warning: no
Object Type: Dinnerware Set
Style: Mid-Century Modern
Pattern: PASADENA 6311
Original/Reproduction: Antique Original
MPN: 1950'S VINTAGE
Color: PINK ROSEBUD ON WHITE